Oddly enough, I've heard something Dora related EVERY. DAY since last Wednesday! Maybe not that odd, but still...

My mum was a day care provider until I was a Freshman in high school. Combine that, and already apparent addiction to cartoons, and it was only natural that I was a Nick Jr. (NJ) fan--regardless of my age. Eureka's Castle, Blue's Clues, Gulla Gulla Island and Dora were my sick day shows! Maybe it was their simplicity, and a complete lack of flashing animation, but I found them relaxing (especially Blue's Clues...I

still

frigging love that show). Dora came out after the daycare years, but I still watched NJ on my sick days (ok, I still would if I had cable).

1).

HeatGear shirt

- perfect for the jungle, or, you know, that trail by your house! Explore this summer, and don't worry about the heat!

2).

Wasatch Mochila

- this day pack matches Dora's but is lightweight for running whether it be pavement, or a trail, and has pockets for your water bottle, and, can safely house your laptop too (in case you have to

run

to class or work).

3).

GPS Mini Running Watch

- Dora always has her trusty map, but if you're looking to gauge how far you've run/walked, this watch will be

much

less cumbersome!

4).

Sweatband

- Dora's signature accessory (besides her backpack) is her little bracelet. But, when your working out a watch and sweatband are usually all one can tolerate for "bracelets". Also, I find these puppies convenient for the occasional wiping or the forehead.

5).

Crossfit Nano

- So, while Dora's shoes are white, I wanted to bring a bit more color. Also I think these shoes look better! These are nice and breathable so your feet will stay nice and cool!

6).

Running Shorts

- I really like these shorts and they come in SOOOO many

C

O

L

O

R

S

!

I liked

Dora the Explorer

for a few fairly simple reasons. Dora teaches kids (and adults) another language! Additionally, growing up in the 80's most POC characters were sidekicks not the star of a show, and that was a kind of shock to me about Dora, even in High school (a good one, but a shock all the same). And, of course: the GIRL adventurer aspect. This show

easily

could have had a male protagonist (only the cheap imitation

spin-off

did five years later). But, boys and girls alike love this show! Kids I baby-sat thought of this show as their

jam

!
I have seen the bottom corner face on a two-year-old...just saying.
via
And last but not least: BOOTS!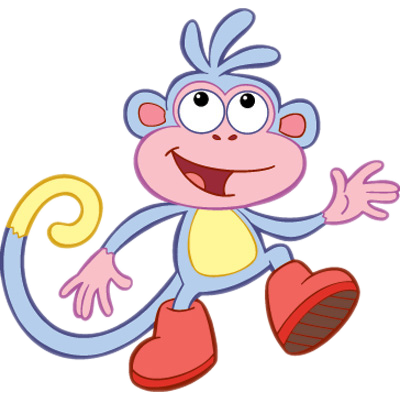 cute talking monkey + little boots= my <3 td="">3>
And to wrap things up, a "RUN from Swiper" playlist!
Do you have any favorite "little kid"/"Sick Day" shows that YOU watch?