I'm sure you knew today was going to happen. If you didn't know from this post, this video, this one, or this one...or any of my social media feeds, well...hello and welcome to my blog! :)
Today's Workout Cosplay is the stylish, classy, and bad-a$$ Agent Peggy Carter!
You may have noticed item number two is none other than the AMAZING Gwen's design! Not only does the shirt look awesome and represent this fantastic fandom, but, all the profits go to Wounded Warriors! So, it's an awesome fandom shirt, for a great cause! Travis also featured this amazing shirt in his Everyday Cosplay of Agent Carter here! You know you want one ;)
I also wanted to share Nina's (of Le Fancy Geek) Agent Carter necklaces, as we as a fanbase are asking: #MakeAgentCarter! They're super cute, and you can get your own here! I'm leaning towards the floral...but the lace is cute too! Decisions!!!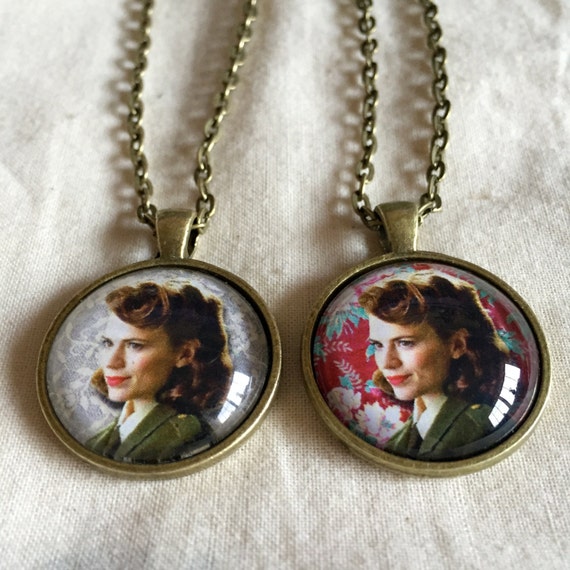 Pic by Nina, from her shop LFGBoutique
Today's playlist was hard in that I'm trying to accumulate songs from the tv show...which not all are available on any one music playlist site--some not at all! So, for this workout playlist, I chose fun swing and big-band songs...and few modern gems cause they fit the general theme (it was so hard not to make an all Puppini Sisters playlist). Hope you enjoy!
IDK if you're watching Agent Carter, if you aren't may I suggest changing that, and checking the show out on Hulu!
And if you like, don't forget to tweet your support for Agent Carter, and, more collectibles & toys featuring her!
#MakeAgentCarter