5 Binge-Worthy Shows
his Fandom Friday post is brought to you by the letter N, for (The) Nerdy Girlie, and, the letter S, for Super Space Chick. And by readers like you!
Today's post is also brought to you by the lovely
Meli
who suggested featuring our five favorite binge-worthy shows!
Here are mine (in no particular order):
The Mighty Boosh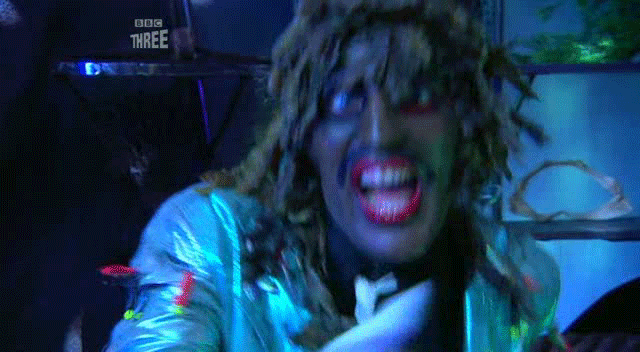 Old Gregg the Sea Manster
via
This odd, but AWESOME show is one that I had two very different friends tell me "you know, I think you'd love this show called The Mighty Boosh." So I bumped the show to the top of my Netflix list (sadly, no longer streaming :'[ but still DVD) and I was hooked! You've probably seen Old Gregg cosplays at conventions, or the Hitcher. They are all played by Noel Fielding who also plays Richmond in The IT Crowd (PS if you like IT, I would suggest Boosh as its very similar writing...just a little more outrageous). TBH I do have one critique that makes me cringe in this show as it does pull some occasional offensiveness. But overall, I do LOVE this show, and I never just watch "one" episode.
Princess Jellyfish
Moon. Jellyfish. TRANSFORMATION! ;)
via
This is a sweet, comedic, and just plain old fun anime. It has one of the more realistic (and HILARIOUS) makeover scenes which is more about "best-foot-forward" than "change-who-you-are"! I remember that the first time I was watching it, I started from the beginning cause the Tenor started some of it and was like: "I think I need to see this from the beginning" he loved it too!
Ouran High School Host Club
This episode cracks me up EVERY. SINGLE. TIME!
via
I used to read the Ouran High School Host Club (OHSHC) manga (and actually
really
want to pick it up again, as I left before it was finished because: moneys) and remember busting up laughing out loud while reading it...regardless of where I was. When I got hold of the anime it was just with subtitles and visually devoured the whole season! Then, Funimation did a dubbed version and I was curious about how it would sound. It was actually pretty spot on! You can enjoy it on Netflix now in either language! This show always makes me laugh, and whenever I don't know what to watch, I pretty much marathon this show! (PS the pic is from a scene I legit go into a laughing fit at every time no matter how often I watch).
Pushing Daisies
via
While I don't really remember this being on TV (sad Joie) I remember buying the DVD because it looked interesting...and was on sale. I ended up finishing the first season in about 2 days (no judging), and the next day went back to buy season 2 while it was still on sale!
The narration, colors, wardrobe, story, actors (including Lee Pace & Kristin Chenoweth)...just ALL OF IT is so beautifully executed, and hooks you in! Also, Daisies writer is BryAn Fuller, who writes for Hannibal (my #6 binge show ;] )
Orphan Black
In 2013, the Tenor's and my friend recommended a little show to us that we should check out on DVD. Little did we know that we would quickly become a part of the Clone Club! The writing is engaging, and suspenseful, and Tatiana Maslany's acting is worth just checking out a few episodes, even if this isn't your thing! Also, homegirl should be winning ALL the awards, because her acting is top notch! Also, there's some mystery each season, leading to one greater one with a natural build in the shows tension. Seasons 1 & 2 are available on Amazon Prime, and since season 3 kind of just started, you're in a great position to marathon!
Honorable Mentions:
Hannibal
Sherlock (its so easy to watch)
Bleach
Doctor Who (esp. the Russell T. Davies seasons)
What are some of your more binge-watching worthy shows?