Dear Santa: A Fangirl's Christmas List from Her Wonder Years...
This Fandom Friday post is brought to by the letter N, for (The) Nerdy Girlie, and the letter S for Super Space Chick. And by readers like you!
Today's Fandom Friday is based on one's Christmas/Holiday List from "Santa"
I can't help but think of The Santa Clause when Scott's ex-wife spoke about the missing Mystery Date Game for some reason. lol
So, I'm changing up my list to:
Five Things I Always Wanted for Christmas
, but, never got (usually for good reason).
1).
Power Wheels version of the Care Bears Cloud Car
So the really GOOD reason I never got this was that it
NEVER EXISTED
LOL! Let me tell you one of my earliest fandoms was Care Bears. Obsessed doesn't really begin to cover it. And then, those cute little bears and their cousins had a flying car made of
cute
clouds? I mean really...FLYING! The only thing I need to add to this is, that under the glove box, I wanted a little house for present #2...
2).
A kitten
...with a bow...under the tree (it's an iconic image thing).
Looks like my Imogen!
via
Sure, I have a kitten now. And I even got a kitten around age 10! But that whole idea of a kitten with a ribbon collar nestled under the tree was a dream for me! My family is allergic to cats (yup...love conquers all...or at least allergies) so it didn't happen (solid reason). At least not for a few years...and not at Christmas.
3).
A Library
I wanted a library like Belle's to appear on my parent's house. But it's fair to not have one cause...Santa isn't real so the free work from the elves to make it over night wasn't really an option. And cause #BookNerd! (Also,
this skirt
is on this year's list of wishes...as is the library which will never leave my "list"!).
4).
Pager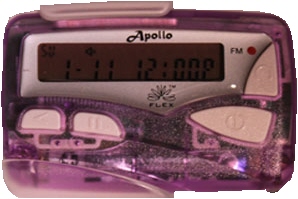 Glittery & purple? I kind of want this again...
To be honest, I grew up with this rule from my mom: "if I don't know where you are, you're probably not where you're supposed to be." Which in translation meant I wasn't getting a pager because, as a minor, my parents were responsible for me, and a pager wasn't really necessary since I should be telling them where I was to begin with. If that sounds strict, don't worry, because, since I showed responsibility with this rule I didn't have a curfew. That's right. By letting my parents know where I was (and when those plans changed) I didn't have a curfew. I think not having a pager (as cute as I thought they were) was a win for me.
5).
Snowboard
Gonzo, or, Animal...I want them!!!
via
I still don't own one (nor am I very good at it) but dang it, I LOVE snowboarding! I own the clothing supplies...I just need bindings, board...and a mountain (thanks a lot Florida). But I feel like boards are so expensive.
And that was my Christmas list from my wonder years!
What are some items you wanted for Christmas growing up?